Hemp Recipie
Source:
pbfingers.com
Perfectly crunchy and slightly sweet, this coconut hemp seed granola is a great way to add flavor and texture to a creamy bowl of yogurt but tastes fantastic by the handful, too! Made with hemp seeds and unsweetened coconut, it's an easy recipe you'll find yourself making again and again.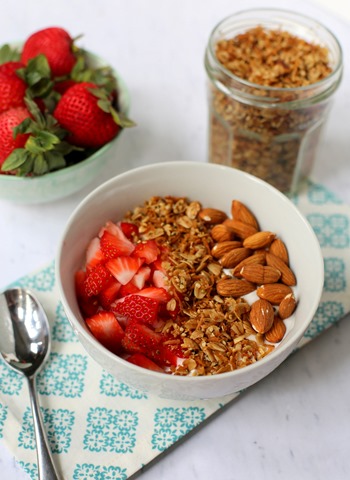 I'm not sure what it is, but I love surprising people with food. Whether it's mailing a friend cookies for her birthday, bringing dinner to a neighbor who isn't feeling well or showing up to a party with a jar of homemade granola for the hosts to enjoy the next morning, whipping up something homemade for someone I care about makes me smile. It feels like I'm putting thoughts of someone into action somehow. I cannot really explain it but hopefully this makes sense to at least one of you out there!
Years ago, I read something in a magazine about the "ultimate hostess gifts" and laughed because, um, I'm not that fancy. Hostess gifts? Does a bottle of wine count? (Yes, for the record.)
Though my friends and I absolutely do not expect to receive a hostess gift whenever we throw a casual party, I actually do love the idea of bringing something for the party planners to enjoy together the next morning. It's not something I do regularly (I go the bottle of wine route at lot!) but if I have the time, I love whipping up a batch of homemade granola because it's a treat that does not have to be enjoyed immediately and seems like something many people love.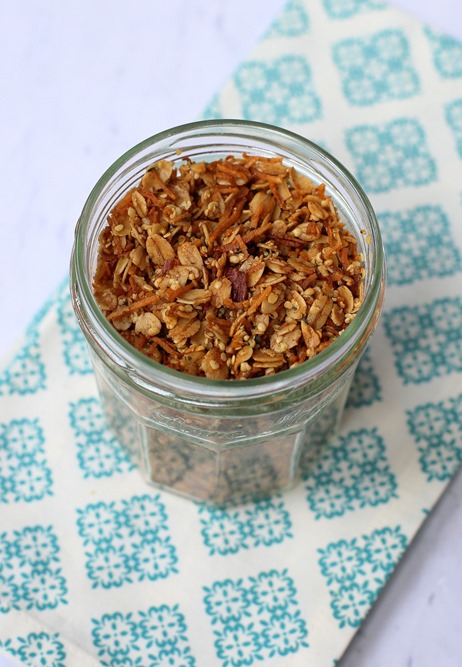 About two weeks ago, I made a batch of granola with a hearty helping of
hemp seeds
for our family. Hemp seeds are very mild with a slightly nutty flavor and are a great source of protein, healthy fats (omega-3 and omega-6), magnesium, potassium, calcium, iron and vitamin E. I love incorporating them into smoothies and oatmeal, so why not granola!?
The end result was one of the most delicious batches of granola I've ever made! (A granola recipe definitely worthy of gifting!) I used a lot of "extras" in this coconut hemp seed granola so the oats, while present and tasty, were not the star of the show. The hemp seeds and toasted coconut took center stage and I quickly found myself eating the granola by the handful and looking for excuses to sprinkle it on top of anything remotely sweet.
The granola keeps well in an air-tight glass jar and can easily be customized to incorporate your favorite add-ins. Once the granola is cooled, feel free to toss in dried fruit or mini chocolate chips or leave it just the way it is… Simple, crunchy and delicious!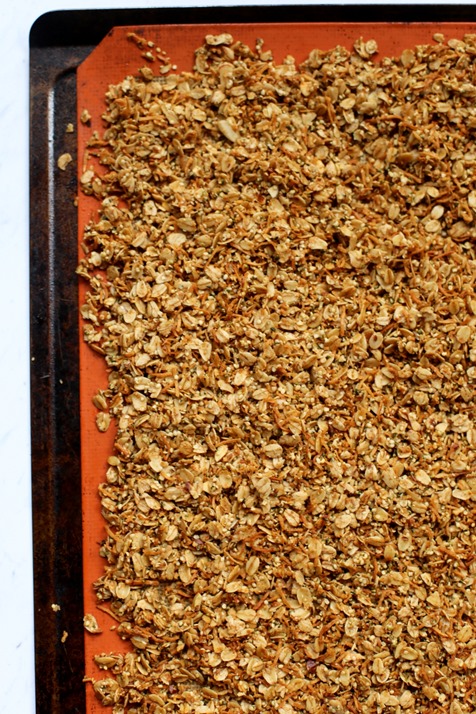 COCONUT HEMP SEED GRANOLA
Makes approximately 14 1/4 cup servings
Ingredients
2 1/4 cup old fashioned oats
1/2 cup hemp seeds
3/4 cup unsweetened coconut
1 tablespoon cinnamon
1/4 cup sliced almonds
1/4 teaspoon salt
1/2 cup melted coconut oil
2 tablespoons maple syrup
1 teaspoon vanilla extract
Directions
Preheat oven to 325 degrees. Combine oats, hemp seeds, coconut, cinnamon, almonds and salt in a large bowl.
Combine melted coconut oil, maple syrup and vanilla extract. Pour over oats and toss to coat.
Pour onto a cookie sheet sprayed with cooking spray (or lined with parchment paper or a Silpat).
Bake for approximately 20 minutes, flipping halfway through. Cool and store in an airtight container.
NUTRITIONAL INFORMATION
Per 1/4-cup serving: Calories: 214 / Fat: 14g / Carbs: 18g / Protein: 4g / Fiber: 6g / Sugar: 2g
This granola is much lower in sugar and higher in protein and fiber than many store-bought granolas out there but if you are concerned about the higher calorie and fat content, you may experiment by reducing the amount of coconut oil to 1/3 cup.