My blog is dedicated to the exploration of industrial hemp in America including the rich history of all forms of cannabis, the evolving law and politics of hemp and marijuana, the many products made from cannabis and the capacity, real or imagined, of hemp to re-industrialize rural America and revitalize the American family farm.
Sunday, April 30, 2017
Source:
publicnow.com
NSW Minister for Primary Industries, Niall Blair has welcomed a decision today to approve low THC hemp for sale as food, by the Australia and New Zealand Ministerial Forum on Food Regulation.
'This is exciting news for the existing hemp industry which will now continue to thrive, producing a healthy and sustainable product for consumers,' Mr Blair said.
'Low THC hemp is a healthy choice for consumers, containing a near perfect ratio of Omega 3 and Omega 6 and high levels of protein.
Mr Blair said low THC hemp is legally already grown in NSW under strict licensing conditions and it was a hardy and sustainable crop that had enormous potential for both domestic and export markets.
'It's already sold legally in more than 21 developed countries including the USA, Canada and the UK - It is now time for Australians to reap the benefits,' Mr Blair said.
'In the US alone, the Hemp Industries Association estimates the value of hemp based foods, supplements and body care sales to be between US$150-170 million per annum.'
Australian hemp growers are also developing drought resistant varieties for the domestic and international markets, to help improve its viability as a crop.
Forum members acknowledged today the considerable work undertaken to address earlier concerns that consuming low THC Hemp would have an effect on road side drug testing.
Consumption trials undertaken as part of the approval process have overcome those concerns finding its highly unlikely consumption of low THC hemp foods would result in a positive road side reading.
Today's decision to amend the Food Standards Code also imposes strict limits on the levels of THC and cannabidiol (CBD) in hemp foods.
There will be strict guidelines around the marketing and labelling of the foods - preventing any suggestions of psychoactive or therapeutic effects and branding that links illicit cannabis and any reference to the presence of CBD.
Friday, April 28, 2017
Source:
steamboattoday.com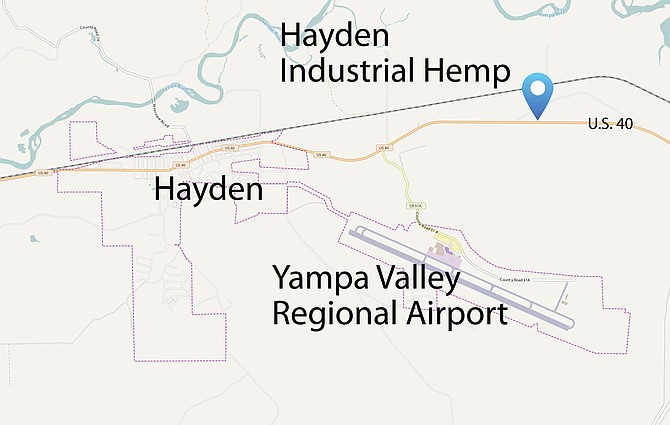 Steamboat Springs
— The principals in Hayden Hemp Industrial are seeking county approval for plans to grow hemp plants in new greenhouses off U.S. Highway 40, 20 miles west of Steamboat Springs. But it's not what you may be thinking.
#
Thomas Walsh and John Emery aren't planning a marijuana grow operation; instead, they want to raise hemp plants with the intention of selling bulk hemp fiber, consumer products and resin concentrates. It's a business model that is sanctioned and permitted by the Colorado Department of Agriculture.
#
"All of our hemp plants grown and processed will be approved by the State Of Colorado Department of Agriculture permitting system. No hemp containing more than the legal limit of 0.3 percent THC will be grown or allowed onto the property," the two men wrote in their application to the county.
Industrial hemp is distinctly different from the type of cannabis sativa which produces the psychoactive chemical in marijuana pot smokers seek. Industrial hemp does not yield significant amounts of THC. In other words, when grown properly to take advantage of the plant's practical uses, industrial help won't make people high.
#
Assistant Routt County Planning Director Kristy Winser said April 26 that Hayden Hemp's application makes a fairly straightforward request to change the current permitted use from a retail establishment with outdoor storage to a light industrial facility.
#
"This is one of very few properties in Routt County located outside of designated growth centers that is zoned commercial," Winser said. "It's actually a less-intensive use. Before, there were people coming in and out," multiple times per day.
#
The building was last used as a satellite retail center for Tri-State Equipment, with its main business location in Craig. The hemp entrepreneurs have a date — May 18 — with the Routt County Planning Commission to seek approval for the change of use.
#
Future goals: growing hemp as outdoor crop
#
Emery said this week the long-term goal he and Walsh share is outdoor production of hemp plants for fiber and its many applications. But, in the near term, they plan to emphasize the production of hemp oil, which is used in creams that make life more enjoyable for people suffering from muscle and joint pain.
#
"We definitely have further goals of producing fiber products in traditional hemp, but there's immediate demand for the medical component," Emery said. "This is an opportunity to share the benefits of hemp with mainstream American that can't or doesn't want to get high. This is a product that allows them to get the benefit of the hemp plant versus marijuana."
#
Emery expects the new facility, on 1.34 acres, will be able to grow up to 100 hemp plants in each of three 40 by 100-foot greenhouses. Time to maturation could be less than three months. Seedlings would be started in the existing steel building.
#
Walsh and Emery expect daily operations to require fewer than four employees and fewer than two commercial truck visits per day, on average. Emery confirmed April 27 that all the water needs for growing the hemp plants indoors will be met by an existing permitted well.
#
Emery said Walsh has an agricultural orientation and owns the building that formerly sold skid-steer equipment and where they hope soon to be growing hemp. Emery added that, though he is not in the marijuana culture and does not smoke pot, he acquired skills in growing the plants at a marijuana grow facility in Oak Creek. He has also worked in the mining industry.
#
Colorado Commissioner of Agriculture Don Brown told a Steamboat audience in June 2016 that industrial hemp held the promise of creating a much-needed new commodity in the state, and his board and the Department of Agriculture were working hard to facilitate the growing interest in the industry as allowed by the 2013 Colorado Industrial Hemp act.
#
"Hemp is a growing commodity here in Colorado," Brown said. "Do we know its potential? No. But we think we really need to look at it — we need new commodities."
#
The climate of Northwest Colorado is just outside the ideal range for hemp, however, Canadian hemp expert Andrea Hermann told Steamboat Today in 2013 that it can grow on the plains of Manitoba, where she lives, and also in semi-arid Northwest Colorado.
#
"Can it grow there?" Hermann asked rhetorically during a phone interview "Absolutely. Do we know the cultivars — the varieties and parental lines that will do the best? No, we don't. We'd have to test them. But in Manitoba, hemp grows with 8 to 13 inches of (annual moisture) without any worries. We have dryland production in Manitoba, and we get our share of winter."