By Eric Hylden
Source:
bismarcktribune.com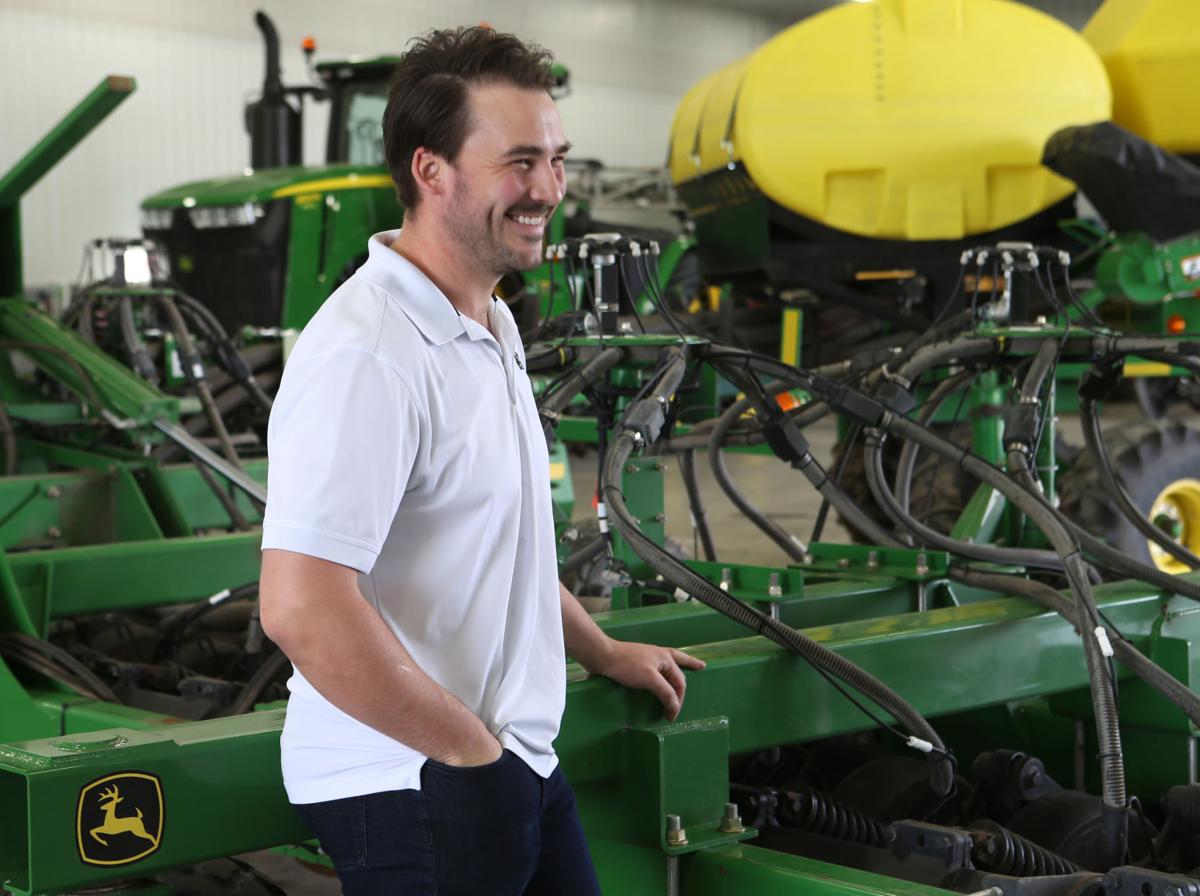 Grand Forks farmer Chris Adams is one of 35 North Dakota farmers that will be raising industrial hemp this season in a pilot program.
GRAND FORKS — A few dozen farmers, including some in the Red River Valley, are trying something new this growing season.
The North Dakota Department of Agriculture approved 37 proposals for the industrial hemp pilot program.
Hemp is a variety of the cannabis sativa plant, which also produces marijuana.
Hemp, however, is grown specifically for industrial purposes for everything from grain to textiles and has no psychoactive properties.
The state implemented the pilot program to research growing methods and the potential market for the crop.
Though the plant cannot be used as a drug, federal law prohibits hemp production.
The state's pilot program operates under strict oversight from the Drug Enforcement Administration and the state Department of Agriculture.
A new challenge
The 37 approved hemp producers are located in 17 counties across the state, with plans to produce 3,064 acres of hemp this growing season.
Christopher Adams, vice president and partner in Adams Family Farm south of Grand Forks, is among the approved applicants.
The fourth-generation farmer said it was mostly curiosity in the crop's potential that led him to apply.
"It's something new, a challenge," he said.
He applied to plant 270 acres of the crop.
He said the operation doesn't require any new equipment to plant or harvest.
The planter has to be set a bit slower, but it's the same tool.
The growing cycle is similar to dry, edible beans, which is one of the main crops on the Adams Family Farm.
The growth period is about 104 days to maturity. They begin planting in mid- to late May and harvest about mid-September.
"It's similar to what we're already doing," Adams said.
When he harvests the crop, he said he's going to use a standard header on his combine with a similar setup as wheat.
One problem he doesn't have a solution for yet is residual management. After the fields are harvested, there's a stalk in the ground that's so tough it can puncture tires.
"It's like bamboo," he said.
Currently, there are no approved processors for the plant fiber, meaning it can't be marketed and has limited uses.
"We're hoping some come on board," said Rachel Spilde, the industrial hemp program coordinator with the department.
Adams said there probably will be fewer weed-control inputs because the plant sprouts leaves and closes a canopy over the soil in a couple of weeks, leaving little sunlight for weeds to grow.
Research
What are the best practices for hemp production remains to be seen. In this new venture, farmers are figuring out exactly how to go about doing it.
"I'm just learning as we go," Adams said.
This will not be the state's first hemp program. For the past two years, North Dakota State University had a 70-acre hemp plot near Langdon.
Researchers produced five-foot-tall hemp plants the first year and yielded quite a bit of data.
The second year, excessive moisture in May stunted the produce at knee-high levels, leading the researchers to conclude hemp doesn't perform well in very wet conditions.
"We have to prove to Congress this can be a viable product," said Agriculture Commissioner Doug Goehring on the purpose of the pilot program.
He stressed the DEA classifies hemp as a Schedule 1 drug, the most restrictive classification, and the program operates with DEA oversight.
Growing hemp without official approval through the Department of Agriculture is the equivalent of producing marijuana, in the eyes of the federal government.
"It is an illegal product in the United States of America," Goehring warned.
Compliance with the feds requires all seeds and plant material to be tested for tetrahydrocannabinol (THC), the main psychoactive chemical in the plant.
That level can't exceed 0.3 percent, which is far below the minimum of about 3 percent found in very low-grade marijuana.
The department also is required to account for all seeds produced or imported for the program.
"I mean right down to the pound," Goehring said.
And no seed or plant material can be exported out of the state without permission from the states it's transported through.
Any end product must be processed by department-approved processors before it's exported.
In addition to the agronomic research, this year's program also will begin exploring how the produce will be marketed.
Roger Gussiaas, president of Healthy Oilseeds, is one of the few processors approved under the program. This will be the second year he's been approved for processing.
However, aside from some hemp products sold within the state, most of the material has piled up at the Healthy Oilseeds facility in Carrington because he didn't get approval to export any of it until recently.
"We have a lot of product we're just sitting on," he said.
Like the producers, processing doesn't require any equipment other than what they currently are using for their borage and flax products, Gussiaas said.
Now that he has the permission to begin exporting hemp products, he's starting to build relationships with buyers across the globe.
"We're ready to hit it really hard," he said.
Gussiaas said it could take years to develop that market.
With more than 3,000 acres going in the ground this year, North Dakota hemp growers will be looking for that market to come to fruition.
Producers and processors alike have a lot of questions to answer as this new venture takes off in North Dakota. Step by step, they're meeting the challenge.
"That's kind of how we roll. You have to walk before you run," Adams said.