By Troy Herring
Source:
annistonstar.com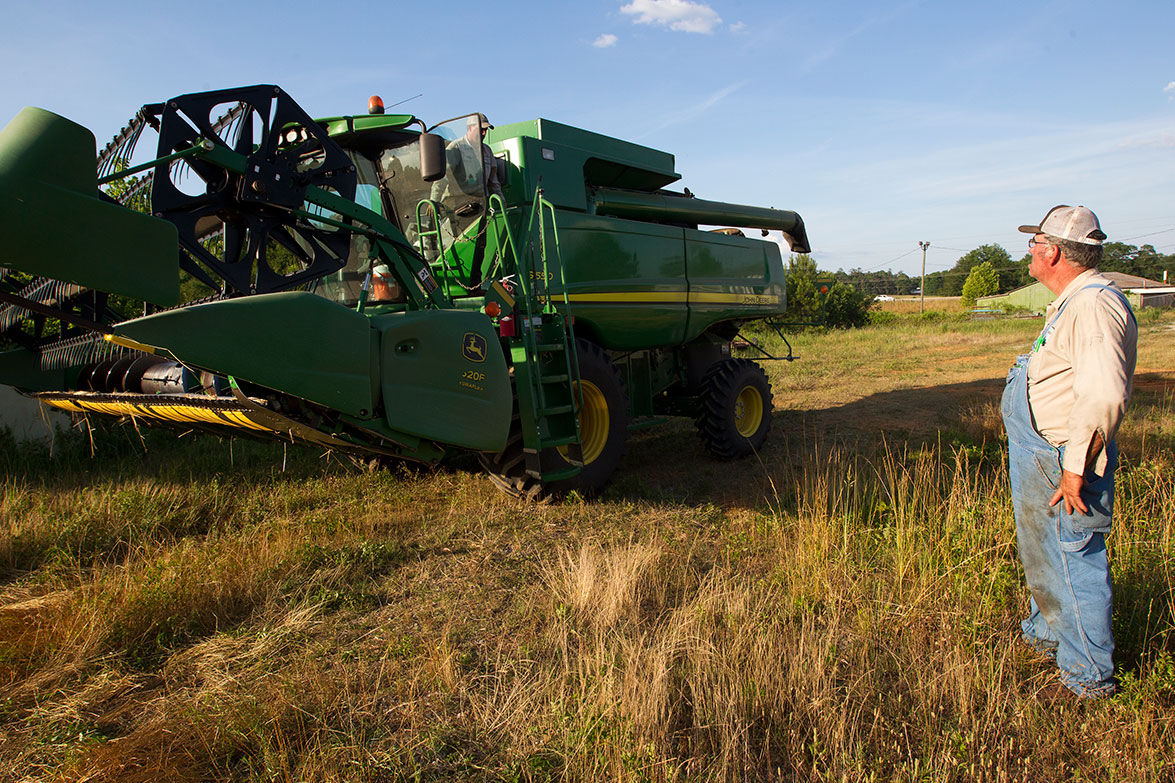 Doug Trantham, right, looks on as his son Daniel climbs out of a harvester after he finishes harvesting wheat late Friday afternoon at their farm in Alexandria.
A pilot program allowing the production and research of industrial hemp is coming to Alabama by sometime next year, thanks to passage of a recent bill.
Sponsored by Rep. Ken Johnson, R-Moulton, the bill authorizes the Department of Agriculture and Industries to work alongside the Alabama Cooperative Extension, which includes Alabama A&M and Auburn University, to research and develop industrial hemp for agricultural and production purposes.
The bill also redefines marijuana under Alabama law as to not include hemp.
The production of any by-product from cannabis still remains illegal at the federal level, but thanks to a provision in the federal government's 2014 Farm Bill that allows for pilot programs in each state for industrial hemp research, 30 states are currently involved with programs that are looking into the validity of hemp as a serious cash crop.
"When you look at all the things that can be developed from this product, yes it is used in automobile manufacturing, but there are a lot of potential uses," Johnson said.
Hemp can be used to make a variety of products such as clothing, cattle feed and rope.
Johnson said hemp could have a positive impact on the agricultural industry and benefit others, as well.
The implementation of the bill itself has been left in the hands of the Department of Agriculture and Industries, allowing the department time to get a comprehensive understanding of the effect of hemp production in the state.
Patrick Moody, legal counsel at the Department of Agriculture, believes that time will be an important factor to see where the program goes.
"We have had some meetings trying to decide where we are going with this thing," Moody said. "The first few years we feel like it needs to be the extension service that is doing the growing, with the universities actually doing the growing and not having private growers in the mix."
Moody and the Department are hoping that in the next two to three years a permitting process will be set in place that allows private growers to be a part of the program.
While growing the crop would take up valuable farmland for farmers in the state, and with questions regarding its effect on the industry as a whole, Moody says he has heard a growing interest in producing industrial hemp from farmers.
"I have been amazed at the interest from growers about this crop," Moody said. "We have been contacted by a lot of individuals saying this is something they are interested in growing, and they want to get on a list if we start issuing permits."
Industrial hemp advocates like Pike Road resident McMillan Arrington, co-founder of Bastcore LLC, sees hemp as an additional source of revenue for farmers and the industry as a whole.
"It's an ideal rotation crop, and it gives our farmers another option," Arrington said. "And we need to do research to find out what some of these other pros or benefits might be."
Many farmers aren't yet familiar with the bill, but at least some are open to the possibility of growing hemp.
"As far as any new crop production, we are always interested in new crops that could fit into our area," said Doug Trantham, owner and farmer at Trantham Farms in Alexandria. "I wouldn't take a stand against it until I learned more about it and have seen what comes out of it."
Jerry Baker, owner of Old Baker Farm in Harpersville, said he would like to research the bill before making a judgment, but believes that it could be a positive thing, giving farmers another option for a profitable crop.
"Any kind of crop is good that will help us and is a productive thing for society," Baker said. "Most farmers are going to be behind it."