Event
Source:
eventbrite.com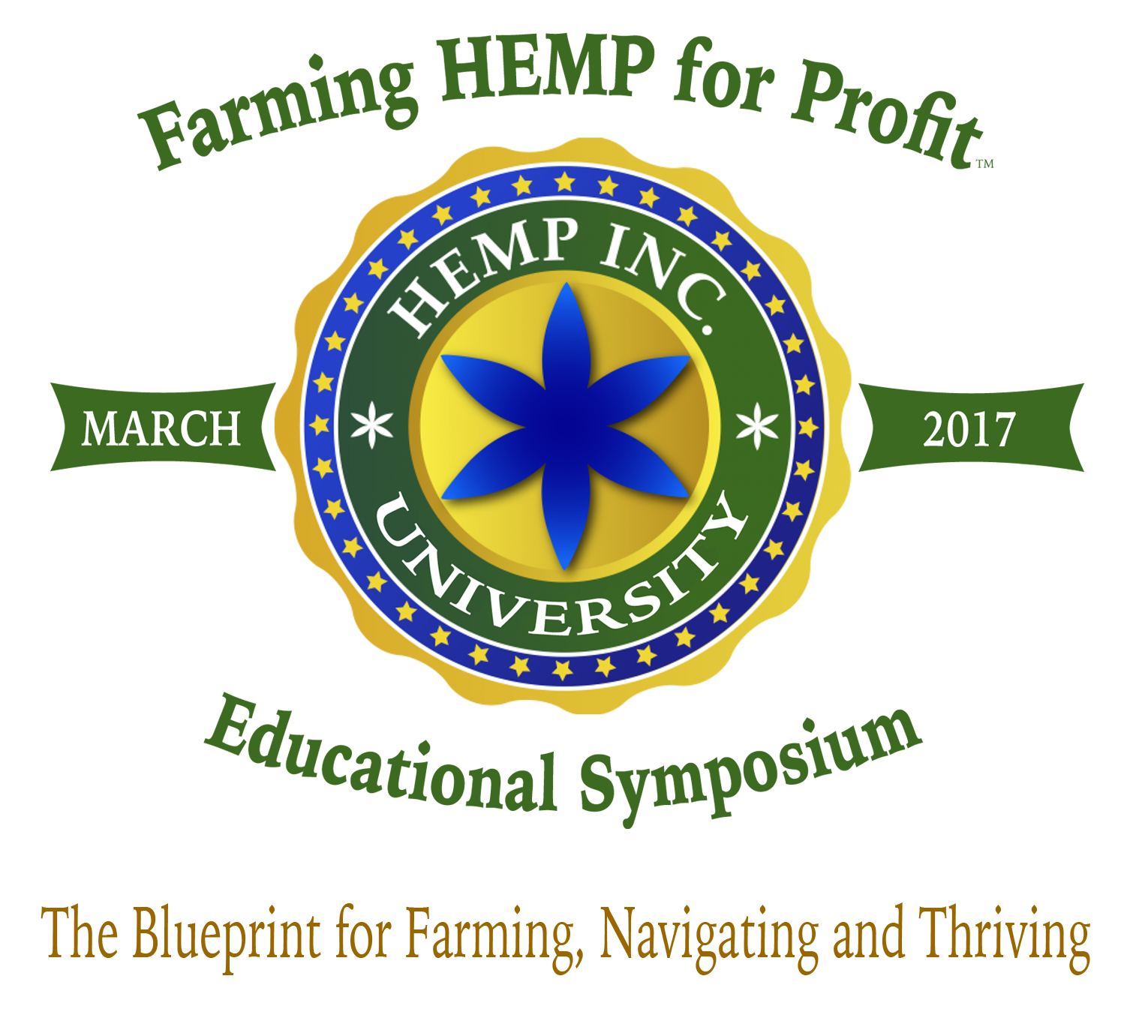 North Carolina is Only Weeks Away from Making History in the Clean Green Industrial Hemp Revolution.
Don't even think of planting a single Hemp seed until you attend Hemp Inc. University's… Farming HEMP for Profit™ event. Landowners and farmers will experience a hands-on approach that guides them through a specific step-by-step BLUEPRINT to profits"
---
EVENT OVERVIEW
This is NOT your typical conference where you sit throughout the day listening to one lecture after another. The
"Farming HEMP for Profit"
event has been created by documenting the actual process of one farmer and one landowner who has committed to grow hemp this coming April, 2017. This event is about real business building tactics and principles and
step-by-step
BLUEPRINT to growing and selling industrial hemp.
The mission of this event is to help landowners and farmers add a new viable and profitable income stream by maximizing their per-acre crop revenue. The Hemp University has been established to be the BLUEPRINT for farming, navigating and thriving in the industrial Hemp revolution here in America.
The up-coming "Farming HEMP for Profits" event is a great opportunity for farmers and landowners to learn and work within a professional team atmosphere and become part of a growing national company. With projections of Hemp generating more than a billion dollars in the US, Hemp Inc. is truly passionate about rejuvenating the American Farmer who so deserve it, for their never ending work and dedication.
HANDS-ON
This is a 'hands-on' event that includes Seven-Phases (We Call Pods) a farmer or landowner will actually go through to successfully grow Hemp Fiber or Hemp Cannabinoids plants. But growing Hemp is only half of the success equation, the other half is selling what you grow and earning a substantial profit.
SELLING YOUR CROP
This maybe is your biggest advantage because Hemp Inc. has built the largest industrial Hemp processing plant on this continent. It's a 70,000 square foot commercial industrial help processing facility and milling operation on 9-acres.
Hemp Inc. has signed a Letter of Intent (LOI) with Mullen View Farms and one with John Finch Farms in North Carolina. Hemp Inc. to purchase 1,000 acres of raw hemp this year from Mullen View Farms and purchase 500 acres of raw hemp stock from John Finch Farms.
However, this is only a small percentage of what Hemp Inc. plans are. They have their sights set on an additional 30,000 acres of industrial hemp in the near future. This is where, you the landowner or farmer comes in and why Hemp University is putting on the "Farming Hemp for Profits" event.
Hemp, Inc. will bring big buyers to the table, ensuring support for industrial Hemp farmers for years to come. Introducing new product opportunities with leading brands and companies as more and more acreage is grown every year.
EARLYBIRD GETS THE WORM
In addition, to learning the exact seven-phase process of growing and selling industrial hemp, it's more about getting engaged at the very beginning of this modern industrial hemp farming movement. Establishing key relationships and securing agreements to sell your crop is far more valuable and maybe one of the top
reasons to attend the "Farming Hemp for Profit" event.
At this moment the demand for US grown Hemp is much greater than the supply

, because there aren't enough farmers growing industrial Hemp.
Millions of Pounds
Hemp, Inc. has the infrastructure in place to process millions of pounds of hemp fibers and stalks a year, on a commercial level.
The industrial hemp crop is a 'part of history in the making' and it's something that will prove to be very lucrative for the farmers and landowners in North Carolina.
Hemp Inc. has their sights on becoming the Hemp Hub in America and the dominate player in the sector. Offering certified education, growing and processing consulting, equipment, hemp seed/clones and additional revenue opportunities for landowners and farmers.
The HEMP Network™
The Hemp Network™ will be your one-stop shop for every aspect of industrial hemp from seed to soil to sale. Providing as many resources as possible to our American Farmer and Landowners to successfully grow hemp and have sales channels for the potential 25,000 products our hemp industry can produce.
Hemp, Inc. (OTC PINK: HEMP) has secured an outstanding lineup (See Below) of experts from at least a dozen states all over the country, including New York, Virginia, North Carolina, South Carolina, Nevada, Colorado, Oregon, Kentucky and
more. Hemp is an enormous resurgence for farmers all over the country to grow industrial hemp unencumbered.
A Greater Cause
Hemp Inc. vision is to make a big difference with American farmers by becoming one of the largest hemp producers in the world… to collectively build a new clean green American Industrial Hemp revolution. A truly great America company and a worthy cause for the American farmers, the American economy and to create
American jobs.
Regardless of whether you are a smallholder or a farmer interested in cultivating larger amounts of industrial hemp, you will find specific cultivation techniques that will help you grow your first industrial crop.
We welcome you to join us for HEMP University's inaugural event… Farming HEMP for Profit™.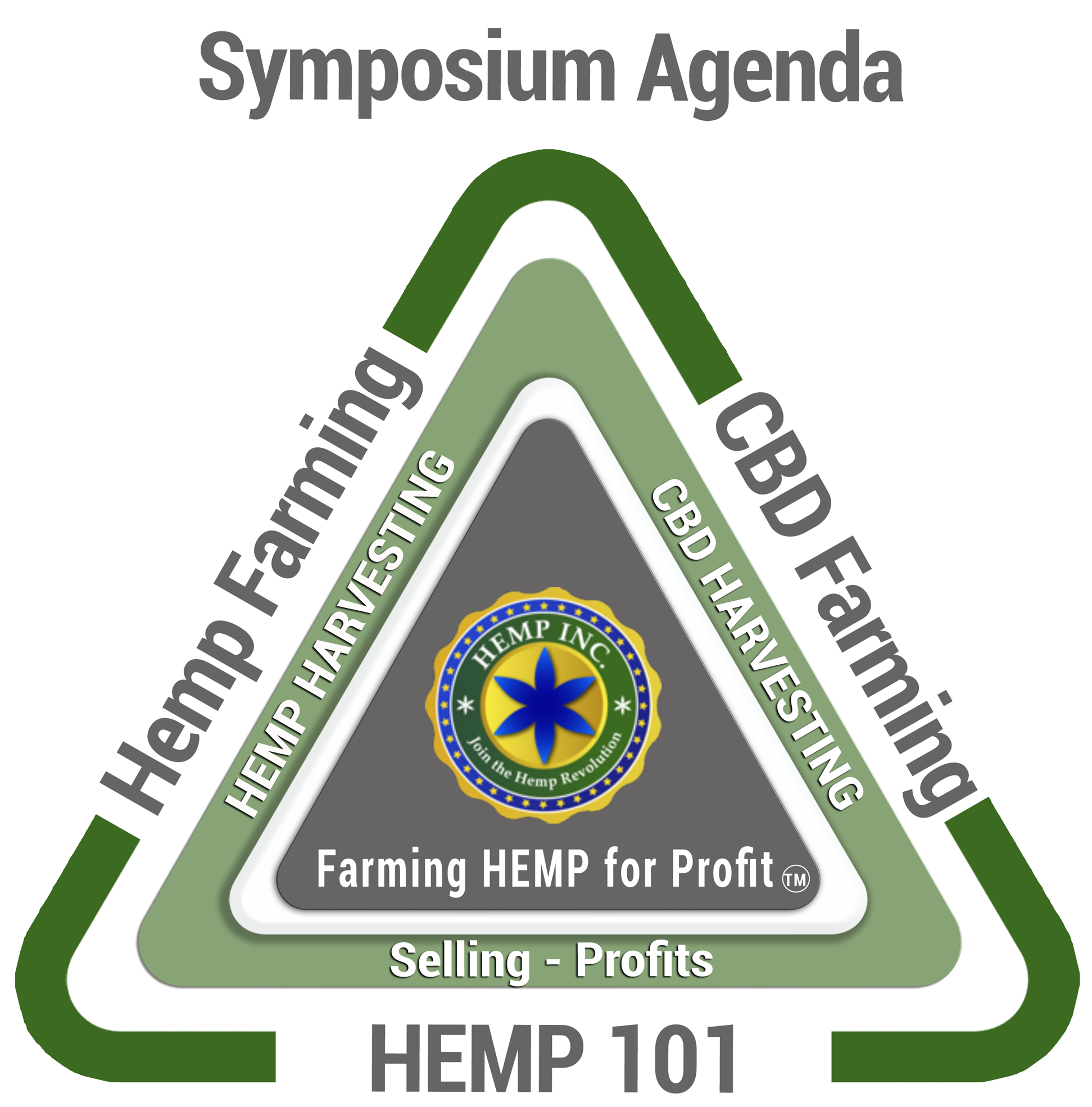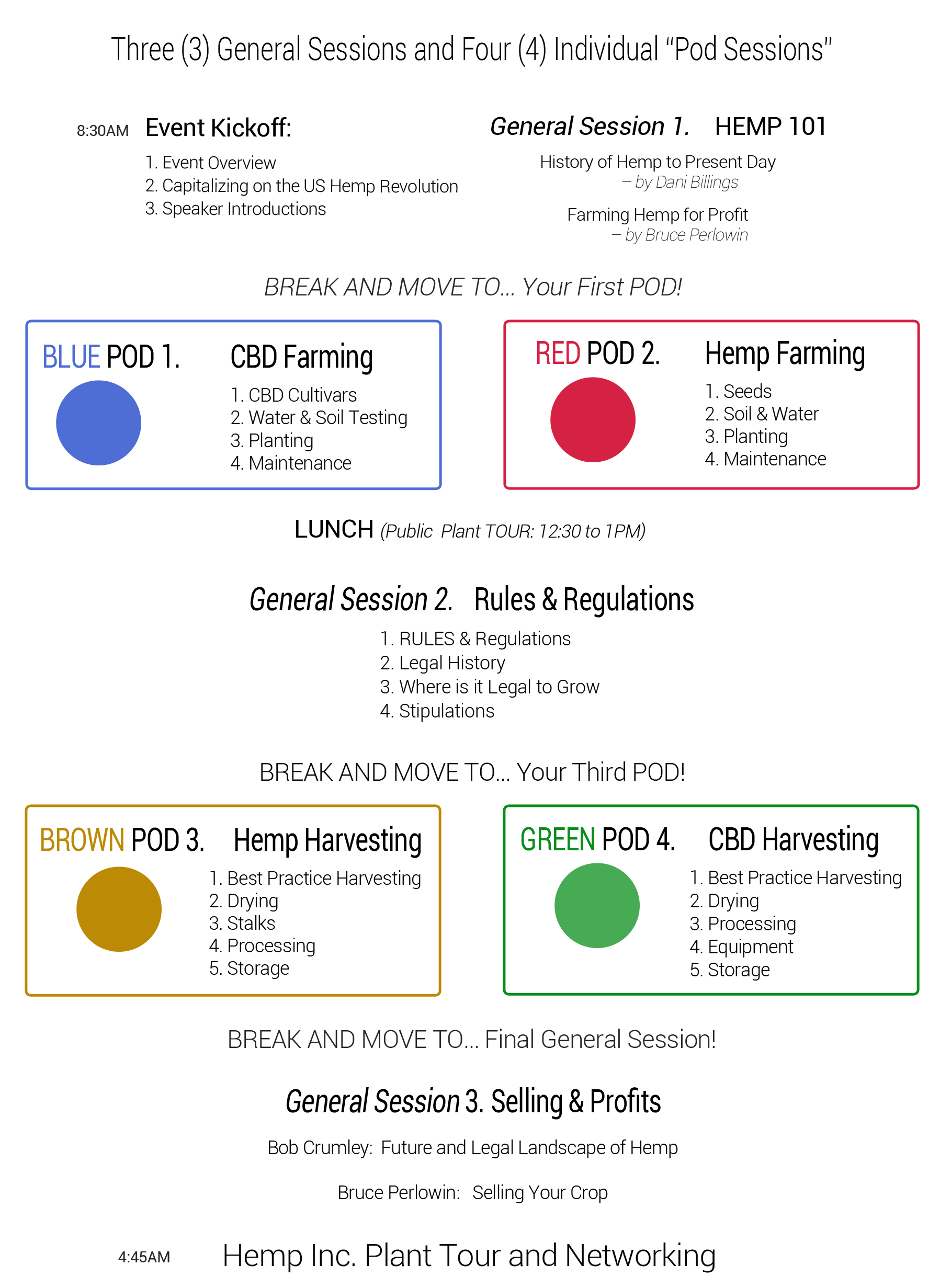 ---
MEET YOUR TRAINERS...
Meet Bruce Perlowin
Bruce Perlowin is Chief Executive Officer and President of Hemp, Inc., (OTC: HEMP), a publicly traded company focused on processing industrial hemp to be used in producing a myriad of clean, green sustainable products.
With North America's largest commercial industrial hemp processing facility, Hemp, Inc. is poised to be the avant-garde of the industrial hemp industry.
Under Mr. Perlowin's direction, Hemp, Inc. acquired a line of automated Temafa decortication equipment worth $10,000,000. The machinery is designed to separate the fiber from the core of the hemp plant through a process known as decortication. Housed in a 70,000 square foot warehouse, on over 9 acres in Spring Hope, North Carolina, the Temafa decortication equipment and milling operation will enable the company to process raw hemp into fiber and hurd (two valuable base products) that can yield hundreds of products.
The former drug smuggler turned medical marijuana mogul turned industrial hemp mogul now focused strictly on industrial hemp has become a true Renaissance man.
---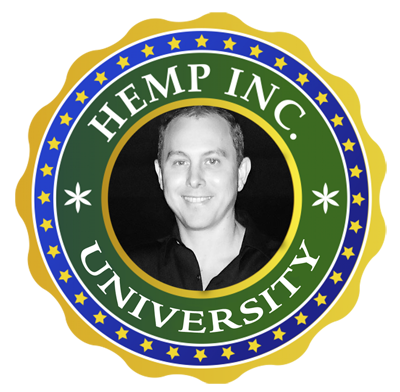 Meet Aubree Arias
Aubree is an angel investor, entrepreneur, and consultant. As the CEO of Greenleaf Joint Ventures Aubree is investing in, and partnering with the leading cannabis businesses and experts. With mentions in Forbes, and creating an amazing network, Greenleaf Joint Ventures has positioned itself as a recognized and trusted name in the cannabis space.
Launching the first digital marketing company for what Aubree terms the Cannabis, Health and Sustainability sector, Elevated Digital Labs has combined the expertise of marketing leaders under one umbrella to provide the solutions for the evolving CHaS sector. Marketing and sales is the lifeblood of companies, creating strong brands and revenue streams is Elevated's primary goals.
Aubree is leading the charge building an eco-system for the cannabis, health and sustainable industries to create strong, responsible, and growth oriented ventures that will make the world a better place.
---
Meet David Schmitt
David Schmitt, is Chief Operating Officer (COO) of Industrial Hemp Manufacturing, LLC., a wholly owned subsidiary of Hemp, Inc. Prior to being appointed chief operating officer, David served as Vice President and Chief Operating Officer of Biotech Mills in Snow Hill, North Carolina where he managed the processing of natural fiber to the automotive industry as well as Loss circulation materials for the gas and oil drilling industry. Under his leadership, he was also able to obtain over fifty million in sales in these Industries.
As senior level management, David has over twenty years' experience in Research and Development (R&D) in the natural fiber industry. During the last Sixteen years, he has been specifically involved in the growing and processing of natural fibers. These fibers include kenaf, jute, and most recently industrial hemp.
The markets for these products include the automotive, oil and gas drilling, paper and pulp, oil clean up, and the soil remediation industries. Animal bedding, sewage treatment, clothing and small animal litter are just a few, among thousands, of the applications for these natural fibers. Schmitt has brought several new products to the marketplace in the last two decades through his extensive R&D and marketing efforts.
---
Meet William "Wild Bill" Billings
Bill is the Vice President and co-founder of the Colorado Hemp Project. Bill Billings is a Colorado native with many of Colorado's largest corporate and family-owned farms as clients that go back decades. He had the first legal hemp harvest in America, that was written about in a book by Doug Fine, a great author and dedicated hemp advocate.
Mr. Billings is a veteran of the U.S. Coast Guard and an alumnus of Colorado Mountain College. Bill is a former contractor who built the state's first passive solar houses and has a history of spotting innovative business concepts and opportunities for environmental preservation well ahead of the curve.
When asked about his intention in founding the Colorado Hemp Project, Bill says, "It's all about passion and compassion—I am passionate about helping push forward the revival of the hemp industry and deeply compassionate for all the children and adults with serious health issues that we know our company's products can truly help to heal."
With projections of Hemp generating more than a billion dollars, Bill is truly passionate about rejuvenating the American Farmer who so deserve it for their never ending work and dedication.
---
Meet Dr. Michael Villa
Dr. Villa is a professional plant ecologist with a diverse background in research of many different plant communities. In addition, he has extensive experience in wetland ecology, restoration, creation and has conducted literally thousands of biological inventories and surveys.
Dr. Villa maintains a caregiver registration through the State of Colorado to breed, grow, harvest and distribute medical cannabis to his patients. He currently grows medicinal cannabis and hemp and is actively working on breeding to produce varieties that can be used to enhance nutritional benefits of the cannabis and hemp plants for his patients.
Dr. Villa was instrumental in gaining community support and securing properties to produce industrial hemp in western Colorado. He coordinated vegetative propagation of approximately 25,000 clones- 22,500 of which were planted in three fields and two green houses near Mesa, CO.
Dr. Villa maintains active registrations industrial hemp in the state of Colorado where he is currently managing a number of greenhouses and fields. He's currently consulting in the development of both indoor and outdoor grow facilities as lead consultant and provides recommendations on lighting, watering, nutrient, pest management, air and water quality as well as extraction and formulation of new medical products.
---
Meet DANI BILLINGS
In late 2008, Dani started her professional career in cannabis. She started an all-organic edible
company with her mom Tracee Box, the company was called Tastee Yummees. In 2012 she sold off her recipes to Cheeba Chews and got out of the MMJ business. In 2012 she went to school for a degree in massage and esthetics, she had the vision to then open a healing center. She has worked personally with over 2000 patients in 9 years. Her father Bill and her started Colorado Hemp Project in 2013.
After seeing a field of beautiful green hemp plants, Dani decided to create a hemp based body care company with her mom as they are a great team. In 2013 Natures Root was created by seeing a field of hemp and wanting to see a market get created and not just grow for fun. Natures Root is an all organic locally grown hemp based body care company, therapeutics line, and nutritional food. Not to forget to mention that Natures Root also opened up the first hemp based spa in the WORLD.
Focusing on all things hemp, local, and sustainable healing for our body and earth. Dani has made a name for herself by spending a lot of time traveling and educating groups, different government officials, speaking at conventions, private events and seminars.
She feels getting the education of the plant out is so important and finds much joy in educating people on the wonders of cannabis. They are opening up other locations across the world for destination locations and healing spas. In addition to publically educating, she currently works with the University in Jamaica, Hawaii, Tennessee and soon to be Vermont and NY by providing solid genetics and byproducts to do case studies on.
Natures Root along with Colorado Hemp Project has had wonderful media coverage and some documentaries coming out over the next years.
---
SPECIAL GUEST SPEAKERS...
Bob Crumley
Founder of... Crumley-Robers Attorney at Law, FoundersHemp.com and the NC Induatrial Hemp Association
Fen Rascoe
NC Industrial Hemp Commission and active in growing Hemp