By Lauren Donovan
Source:
bismarcktribune.com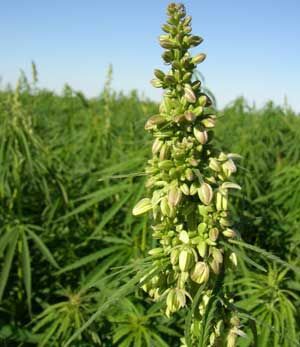 Enough hemp will be seeded this spring to cover a good-sized farm in North Dakota.
The 3,124 acres accepted for the state's second annual industrial hemp program is 45 times more than last year and involves 36 producers and one seed processor from 17 counties. Only five producers and 70 acres were involved in 2016.
The substantial increase will make real headway in understanding the various field and market conditions for the experimental crop, says state Agricultural Commissioner Doug Goehring.
Last year's small program resulted in generally good yields, and producers realized net revenue of $500 to $800 per acre, selling the harvested seed for its oil, meal and fiber content.
Because of its botanical relationship to marijuana, hemp only can be legally grown through the department's pilot program or by universities. These provisions were made possible through the 2014 federal farm bill.
Besides putting more acres in the program, the department also attached more fees to cover the cost of inspections and the THC, or tetrahydrocannabinol, testing required to ensure the hemp has low psychoactive content. Producers are required to pay $25 an acre to cover those costs.
"The thing that caught us off guard was the THC testing," Goehring said. "Producers don't like that they have to pay the $25 an acre, but at least they can recover that on the back end. These are the fees it will take to run the program."
The THC content has to be tested three times for every variety at $150 per test.
Producers in the hemp program hail from across the state, with all regions fairly well represented. The individual plantings will range from eight acres to 312 acres.
That ups the ante for research results based on everything from soil types to rainfall, Goehring said. Something else new this year is that about 400 acres will be dedicated to a seed production variety to determine if seed could be viable for future planting.
The seed could be stored in North Dakota and reused here, but will require diligent accounting and record keeping every step of the way.
"There are so many parts here. There's nothing else that requires this much oversight," Goehring said.
The department had 43 applicants for this year's program, including one organic producer, and pretty much accepted everyone who made a complete and verifiable application.
Goehring said it's possible hemp production could be expanded in the 2018 farm bill. American farm production is complicated by the fact that hemp is regulated as a Schedule 1 product under the federal Controlled Substances Act.