By Marcia Moore
Source:
dailyitem.com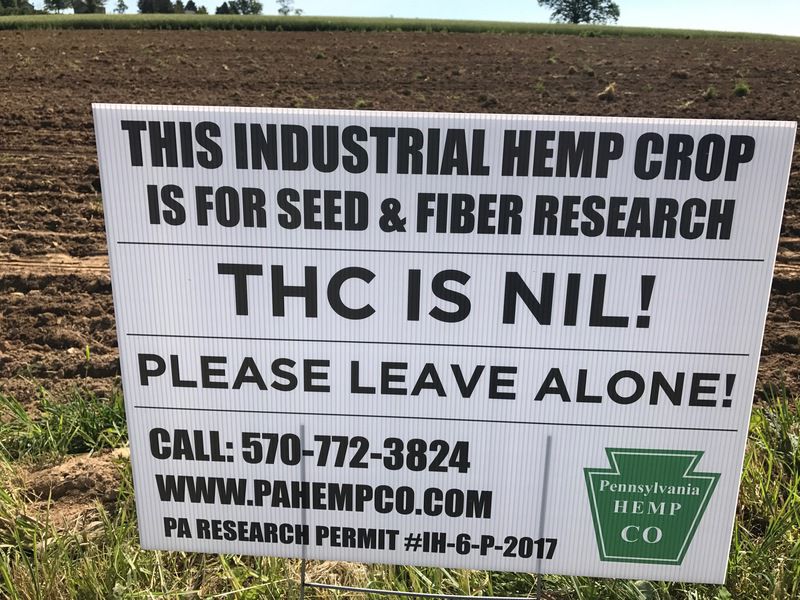 Abram "Bucky" Ziegler planted his first crop of industrial hemp seed Friday morning on his organic farm near Milton.
Along for the ride on the tractor for the inaugural seed-planting in Limestone Township, Montour County, were Adam Thompson, co-owner of Pennsylvania Hemp Co., of Williamsport, and Joshua Leidhecker, owner of Susquehanna Mill Co., Montoursville.
The three are working together on a state-approved research project to study the planting and growth of industrial hemp and marketing viability of its oil and meal for culinary and animal feed purposes.
"It's kind of fun to be on the forefront," Ziegler said of being among the first farmers in the commonwealth permitted to grow and harvest industrial hemp — a non-psychotropic relative of marijuana that does not contain enough Tetrahydrocannabinol (THC) to produce a "high."
Fifteen other research projects received approval to join the Department of Agriculture's pilot program to grow the crop used in making a variety of products, including cosmetics, rope and soap.
On Friday, Ziegler began planting five acres of hemp seed received from Ontario, Canada, which will take 90 to 120 days to grow. The crops will be harvested and taken to Leidhecker's mill, where it will be processed.
Among the attendees at the seed planting was neighbor and Limestone Township Supervisor Walter Laidacker.
He approves of the new crop as "long as there's value in it," but admits some locals worry it will attract the wrong crowd.
"People get uptight" when they hear hemp is being grown, despite the fact that industrial hemp cannot be used to get a buzz like marijuana, Laidacker said.
To ward off anyone who may wrongly believe they can take some of the growing hemp and use it to get high, Ziegler has erected several signs along the edge of the field warning that the hemp contains no THC and will be used for seed and fiber research.
Educating the public about the differences between hemp and marijuana and the benefits of the crop he'll be growing is one of the reasons Ziegler agreed to participate in the project.
"I've always been on the cusp (of new things), and I like to do it," he said.
A certified organic farmer, Ziegler was one of the first to grow and harvest black oil sunflower seeds for culinary oil.
Given a chance to branch out and try another crop, Ziegler took it.
"I think the health benefits are quite clear. It will be interesting to see how the industry develops," he said.