By Luci Morland
Benzinga Staff Writer
May 05, 2011 11:13 AM
Source: benzinga.com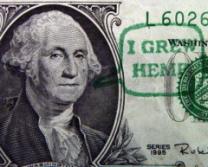 It is unlikely that George Washington ever sparked up a joint, inhaled deeply, and said to a disapproving wife "'Tis medicinal, Martha." While rumors that the original GW was a pothead are unfounded, it is true that he, along with many of the Founding Fathers, grew hemp on his farm.
If your mind immediately went to visions of Washington, Adams, and Jefferson sitting in a circle while Madison packs the bong, you probably qualify to work for the Drug Enforcement Agency. The DEA, like most
federal
government
agencies, operates under the premise that there is no difference between industrial hemp -- which provides a bounty of benefits -- and the let's-get-high version of hemp -- which provides a completely different set of benefits.
Hence the celebration this week of Hemp History Week. Activists from around the globe aim to renew strong support for hemp farming in the U.S., which was grown here for centuries until farming of the crop was essentially banned in the mid-1900's. Industrial hemp is somewhat of a wonder-plant, and America is missing out on some fairly important benefits by banning it.
Environmentalists claim that simply growing hemp for industrial uses would go along way toward solving the global warming problem. Hemp soaks up a tremendous amount of carbon dioxide, bringing the greenhouse gas equation more in to balance. It also purifies air, water, and soil. In fact, its benefits to soil is one of the main reasons American farmers used to grow hemp; it made the soil better for future crops in the rotation.
A worldwide switch to hemp plant paper could do wonders for the Earth, as hemp paper is much easier to make, costs less to generate and lasts much longer. A hemp pulp paper process can replace the current production means of manufactured corrugated boxes,
computer
paper, and paper bags. The fiber produced in hemp is also four times more than the fiber that comes from pine trees.
Hemp also has value as a food source, as its seeds provide the ideal balance between Omega 3 and Omega 6 oils for humans.
All of this remains irrelevant for now, as the federal government refuses to allow farmers to grow low-THC hemp for industrial use. Setting aside the arguments around pharmaceutical benefits that THC-laden hemp plants might provide, is it not silly that the government would ban an otherwise useful — and taxable — plant?